"The most powerful art is a conversation between the artist and the viewer, but some artists don't let the viewer get a word in edgewise. Mitchell's work, on the other hand, invites the viewer to participate in the exchange of ideas and emotions."
~Jack Austin
Mitchell Lonas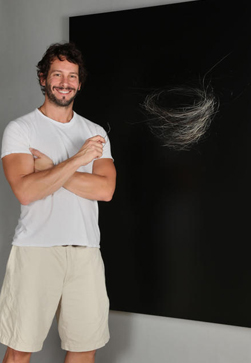 With his poetic take on the rhythms, architecture, and sometimes uncanny synchronicities of the natural world, artist Mitchell Lonas is known for his exacting, exhilarating paintings, drawings, and incised panels. The Tennessee native, who studied art history at the University of Tennessee in Knoxville, was for many years a respected portrait painter before transitioning to his current style. A portraitist's sense of focus, line, and beauty continues to inform his latest work, showcased in exhibitions such as The Wrench Series at Gallery Bienvenu in New Orleans.
Lonas, who now lives and maintains a studio practice in Asheville, North Carolina, personally developed many of the processes that imbue his work with its unique sense of materiality. "The challenge," he observes, "is to create something original using unconventional materials and methods." To that end, beginning in 2005, he evolved a method of applying paint to metal panels and incising them with iconic imagery. Working from sketches, he uses customized cutting tools to create rapturous stylizations of trees, feathers, birds' nests, and other subject matter culled from the plant and animal kingdoms. As viewers behold the completed works from different vantage points, the myriad beveled lines in each composition glint and shimmer in the light.
The gestural drama inherent in these paintings is tempered by a hushed, Zen-like serenity and an intuitive use of negative space that recalls Asian sumi-e brush painting. Immaculately presented with hidden cleats that make the works appear to float in front of the wall, the panels have a weightless, ethereal quality and a sculptural presence that is thoroughly contemporary. In the works' jubilant, expansive lines, viewers will find a treasure trove of symbolisms and personal narratives.
Mitchell Lonas' work has been widely exhibited and is featured in notable private, public, institutional, and corporate collections, among them a series of large-scale commissions for Nordstrom department stores.
Written by: Richard Speer
—Bio excerpted from "Mitchell Lonas: The Wrench Series" by Richard Speer. The author of the biography Matt Lamb: The Art of Success (John Wiley & Sons), Speer is contributing critic at ARTNews and Art Ltd. magazines. His essays have appeared in The Los Angeles Times, The Chicago Tribune, The Huffington Post, Newsweek, Salon, and Opera News. www.richardspeer.com