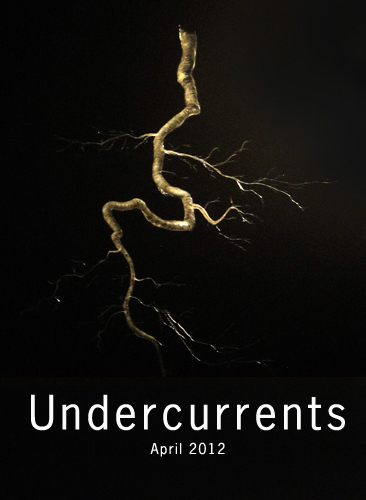 In a serenely poetic follow-up to his 2010 debut with the gallery, Mitchell Lonas presents Undercurrents, a suite of visually stunning works on incised aluminum panel. The pieces incorporate three interrelated motifs—root systems, bird nests, and floating feathers—which Lonas, using customized tools, incises into painted aluminum surfaces.
Fluid yet impeccably precise, his gestures create arcing lines that shimmer and gleam like gemstones or fiber-optic lights as the viewer moves around the room. The imagery references the simplicity, gentility, and elemental kindness of Southern culture, ingrained in Lonas since his childhood in the Smoky Mountain foothills of eastern Tennessee.
"The work in this show," he explains, "is about a continuing connection to nature and family. It's about putting down roots, uprooting, and knowing we have a network, even if we can't see it, that is constantly nourishing not only our bodies, but also our spirits."
Lonas, who studied art history at the University of Tennessee in Knoxville, is featured in significant private, public, and corporate collections, and has been commissioned to create large-scale works for Fortune 500 companies such as Nordstrom department stores. In the current series, iconic motifs hover in the centers of inky-black picture planes. Roots branch out like fingers, lightning bolts, or diagrams of the human circulatory system; nests come together out of of leaves, twigs, and tiny flowers; and downy feathers hover on unseen air currents. This iconography, culled from the plant and animal worlds, nevertheless reminds us of our human bonds:  those who came before us, the comfort of home, and the journey to independence. Lonas gained inspiration for Undercurrents from the 34th stanza of the I Ching, which likens roots to "a foundation to dance on" and suggests that in order to fully experience our compassion and humanity, we must "go down to the very foundations of life."  With this as a symbolic backdrop, the artist deploys an astonishing technical prowess to remind us of an essential truth:  Even in the media-saturated din of contemporary life, it is the simple gifts of family and the earth that make us who we are.
CALLAN CONTEMPORARY hours are Tuesday-Saturday, 10 am-5 pm. For more information, please contact gallery owner Borislava Callan at 504.525.0518 or visit our website at www.callancontemporary.com.
Written by: Richard Speer.
The author of the biography Matt Lamb: The Art of Success
 (John Wiley & Sons), Speer is contributing critic at ARTNews and Art Ltd. magazines. His essays have appeared in The Los Angeles Times, The Chicago Tribune, The Huffington Post, Newsweek, Salon, and Opera.