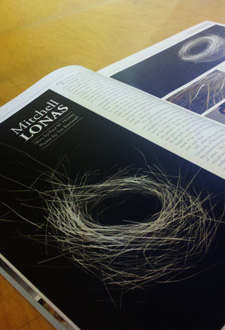 COVER ARTIST: Mitchell Lonas
Mitchell was honored to be selected as the Cover Artist for the November 2010 publication of  The Laurel of Asheville.
Thank you for the supportive responses and comments. Paul M. Howey captivating article chronologies Mitchell journey and attraction for "making pictures".
"I can't remember a time I wasn't interested in painting. I was forever outside drawing everything I could find. I was always trying to find beauty in the things I saw as a child." He says he doesn't recall ever taking naps with the other kids in kindergarten. "Instead, the teachers were always giving me poster boards and paint and I was always making pictures," says Mitchell.
Read Article: Mitchell Lonas – Cover Artist – Laurel of Asheville